AIC BC 3329 board computer

The AIC BC 3329 board computer displays, calculates and logs easily your instantaneous fuel consumption data, cumulative measured values as well as
speed/ distance and lap routine. On-board vehicle and large LCD display with a top intuitive handling.
A metal body, a compact design and simple mounting ensure that the BC3329 fits perfectly in any cab. We support you to document fuel consumption and CO2 emission values measured under realistic test conditions.
View instantaneous fuel consumption
Average fuel consumption (3 decimals)
Fuel consumption accumulation
Travel time
Lap routine for later calculations of the individual lap characteristic
Travel speed average, if a speed sensor is connected
Distance and lap travelled
Trip hours
Reading in metric or imperial units
Power supply 20-28 VAC/DC , 9-12VAC and optional 253VAC/DC
Easy to use USB – logger, USB memory stick not included
Easy control with start, stop logs and reset functions
All settings are stored and will not be lost in the event of power failure
Languages: English, German, French, Spanish and Portuguese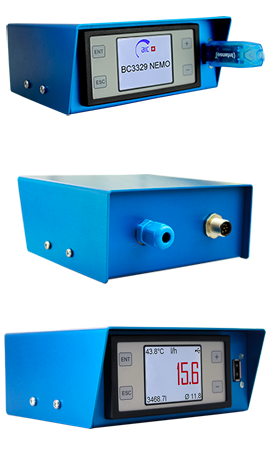 Technology
Dimensions : 127 x 130 x 56 mm / 5" x 5.1" x 2.2"
Display : LCD (UV resistant), 4 screens lines, various characters, symbols and units
Keyboard : Micro-switch push-button (UV-resistant keypad)
Working temperature range : -5°C to +80°C
Housing : 2 mm coated steel
IP : 32
Maximum humidity : 95%, non-condensing
Certification : EMC certified according to EN 52121-3-2:2006
Supply voltage : 9 to 12 VAC/ 20 to 28 VAC/DC/ Optional 20 to 253 VAC/
The  AIC Board Computer-3329 is used to indicate or monitor our sensor signals
The 4-digit measuring value, as well as the status of the alarm contacts, is shown on an easy to read AIC Board Computer-3329
All settings as alarm values, hysteresis, range and operating mode of the floating contacts can be set with a link cable, connected to a personal computer or a laptop. Both limit values can also be changed directly on the device using push buttons
Get more information about the BC 3329 by downloading the product flyer.
Applications
R&D testing: vehicle fuel consumption monitoring for medium and large trucks, buses, construction, demolition and agriculture machines
Diesel electrical generator
Fleet management applications
Features and benefits
Together with the fuel measuring sensor you are reaching the highest accuracy for monitoring your vehicle consumption either for testing, billing application or fleet management
Data easily retrievable via a FAT 32 formatted USB key stick
Robust housing for shock protection
Accessories
Signal cable 10m /mobile appl. 12 / 24 VDC (from AIC 6000 to BC 3329)
Signal cable 10 m (from AIC 800, 900, 4000 to BC) S1607 Pulse Box
Signal cable 10m /mobile appl. 12 / 24 VDC (from AIC 6000 to the Pulse Box)
Signal cable 10m (from AIC 800, 900, 4000 to Pulse Box) Signal cable from Pulse Stretcher to BC 3329
Signal cable form Pulse Stretcher to the 3rd party (end free)
Power supply for the Pulse Stretcher